Ten Predictive Maintenance Best Practices from Industry Leaders
Predictive maintenance uses data and analytics tools to identify potential equipment failures before they occur. This approach allows businesses to perform maintenance activities on their equipment before a breakdown, resulting in increased uptime, reduced downtime, and financial savings.

Predictive maintenance is essential for businesses because it can help them avoid costly equipment failures and reduce the need for reactive maintenance. It can also help companies extend their equipment's life, improve equipment reliability, and reduce the risk of safety incidents.

As per Fortune Business Insights, the predictive maintenance market is projected to reach 18,551.0 million USD by 2026, with a CAGR of 29,8% (2019-2026). Vibration monitoring solutions are looking to generate the highest revenue thanks to their ability to detect and diagnose problems and provide details regarding machine lifespan and possible failure modes.

Data referenced by Deloitte points to the fact that "predictive maintenance increases equipment uptime by 10 to 20% while reducing overall maintenance costs by 5 to 10% and maintenance planning time by 20 to 50%." Impressive, isn't it?

Based on internal Deloitte analysis derived from working with their clients, they discovered that predictive maintenance offers:

Increased asset lifespan, resulting in lower capital expenditure for asset replacement.
Decreased overtime costs by minimizing unexpected repairs.
Optimal availability of skilled maintenance technicians and operators, even during labor shortages.
Optimized parts management and anticipated maintenance needs for improved efficiency.
Better control over production and operations planning.
Improved work-life balance of the maintenance team.
Enhanced workforce safety by reducing the likelihood of asset failures.
5%-15% - reduction in facility downtime, freeing up capacity.
5%-20% - increase in labor productivity
10%-30% - reduction in inventory levels with 5%-20% reduction in carrying costs
3%-5% reduction in new equipment costs
Organizations that have accomplished a significant level of success in their predictive maintenance endeavors understand that implementing such an initiative requires a comprehensive approach. According to an Emerson White Paper, critical factors to establishing a successful PdM program include the five following areas:
Pre-Program Creation > Program Creation > Program Implementation >
Program Management > Program Measurement
Let's dive into these areas by focusing on ten predictive maintenance best practices commonly referenced by industry leaders.
1. Select the Proper Equipment
One of the critical mistakes you can make is skipping an Equipment Criticality Analysis (ECA) and a Reliability Centered Maintenance (RCM). This can lead to overlooking equipment that should be tested regularly and failing to apply Condition Monitoring technologies that may not be appropriate for mitigating all failure modes.

To ensure that all equipment is monitored effectively with various predictive technologies, it is vital to have a comprehensive list of machines in a CMMS/EAM database with an associated Equipment Criticality Ranking (ECR) or, at the very least, a simple list of equipment sorted in a ranked order.

The best approach is to go through a formalized RCM analysis to identify opportunities to mitigate failures using PdM technologies on various plant equipment. This effort will capture the assets that are candidates for the different technologies and reduce unnecessary PdMs associated with those assets.
2. Select the Right Personnel
Selecting the right personnel for your internal PdM program is crucial. Your team should have a diverse familiarity with plant equipment, possess mechanical or electrical aptitude based on predictive maintenance technology, and be detail-oriented, analytical, problem solvers, computer-savvy, improvement-oriented, and metrics-driven. The team should also seek training and self-development to stay current with the latest technologies and practices.

If contracting out predictive maintenance data collection and analysis, it is important to consider the service provider's personnel. Questions to consider include the provider's experience in your type of plant equipment and processes, technician experience and training, certification, compliance with ISO standards, experience using multiple PdM technologies, regular technician availability, communication skills, and notification of equipment requiring immediate attention. Learn more about our Cloud-Based Maintenance Support.
3. Provide Adequate Training
Proper training is essential for success in a PdM program, but basic vendor system training may not be enough. Your PdM technicians should receive comprehensive initial training that covers predictive technologies, equipment reliability strategies, and more. As the program progresses, future training should cover advanced PdM application technologies, Root Cause Failure Analysis (RCFA) training, and specific topics such as precision shaft alignment and lubrication practices.

A lack of adequate training can impact the quality of your PdM program, leading to lower effectiveness, increased costs, and reduced return on investment. Proper training ensures your PdM technicians possess the necessary knowledge and skills to make accurate diagnoses, perform effective maintenance, and improve the program continuously. Learn more about our Condition Monitoring Training.
4. Create a Consistent Program
Consistency is vital to an accurate and reliable PdM program. Eliminating potential variables that could impact data accuracy ensures the reliability of analysis and recommendations.

Utilizing the same technicians ensures consistency in grip pressure, probe angle, and other factors during data collection. Collecting data in the same location and under the same surface conditions can be achieved by using a paint pen or pad and ensuring a clean surface. Using the same instrument settings during testing and ensuring the machinery is loaded at the same operating parameters are also important to ensure consistent data.
5. Collect and Analyze Data in a Timely Manner
Consistent data collection and analysis are crucial for a successful PdM program. Failure to do so may result in unidentified equipment failures and unscheduled downtime, negatively impacting the program's reputation.

Common reasons for inconsistent data collection and analysis include the absence of PdM routes, poor planning and scheduling practices, and inadequate training of PdM personnel. Additionally, PdM crews may frequently pull off their monitoring duties to respond to plant emergencies.

To ensure the program's success, it is important to protect PdM personnel and ensure they perform tasks that contribute to its success. Avoid allowing data collectors to become "dust collectors."
6. Take Corrective Action When Needed

It's not enough to collect and analyze data in a PdM program - taking action on identified equipment degradation conditions is essential. Failure to do so can lead to critical plant assets failing despite having the information to take mitigating action proactively.

Several reasons why this may occur include:

A lack of an established process for converting identified equipment to be reconditioned or repaired;
Unclear work request or work order process for PdM work;
Lack of training for reliability/Condition Monitoring specialists on entering work requests into the plant CMMS/EAM system;
Failure to plan, schedule, or execute PdM follow-up work.
To avoid these issues, it's important to establish clear processes for PdM work, train specialists on entering work requests, and ensure follow-up work is appropriately planned, scheduled, and executed. Taking action on identified equipment degradation conditions is crucial to a successful PdM program.

7. Measure and Document Program Successes
A common area for improvement in PdM programs is the need for predictive metrics captured and reported, including shortfalls in documenting program successes. To measure program performance, it's important to identify metrics, and target goals, to measure and report each KPI, formulas, frequency of measurement, target audience, and communication methods.

Creating a consistent template to document program successes is recommended. The PdM Program Scorecard should capture the number and nature of events and annualized cost savings and should be consistently provided to those in a position of influence.

Consider utilizing a PdM Profit & Loss document to capture costs and benefits on a monthly or quarterly basis, showing ongoing justification for the program. It's important to ensure metrics and success reports are generated consistently and timely, proper personnel receive these documents, and everyone understands them.
8. Offer Program Support
To develop a successful PdM strategy, program support is crucial. A program sponsor can add value by providing a vision, selling benefits to senior leadership, constructing the budget, and ensuring the program receives the necessary resources.

If the program is internally staffed, the program sponsor can ensure the program receives personnel, test equipment, training, tools, and time to execute successfully. If pursuing an external program model, the sponsor can ensure service provider requirements are spelled out, and proper contractor management is performed.
The program sponsor should also consistently lobby for the PdM program with senior leadership.
9. Use All the Capabilities of PdM Technologies

Using predictive testing only to measure machine conditions is a common downfall in PdM programs. Utilizing PdM technologies in several areas is essential to prove the program's value. Some typical applications include:

Machinery health/Condition monitoring
Acceptance testing of repaired and new equipment
Motor circuit analysis on critical spare motors
Energy conservation surveys with ultrasound and infrared
Built-up roof inspections with infrared thermography
RCA/RCFA efforts
By using the diverse capabilities of PdM technologies, added value can be shown not only in the program's early days but for years to come.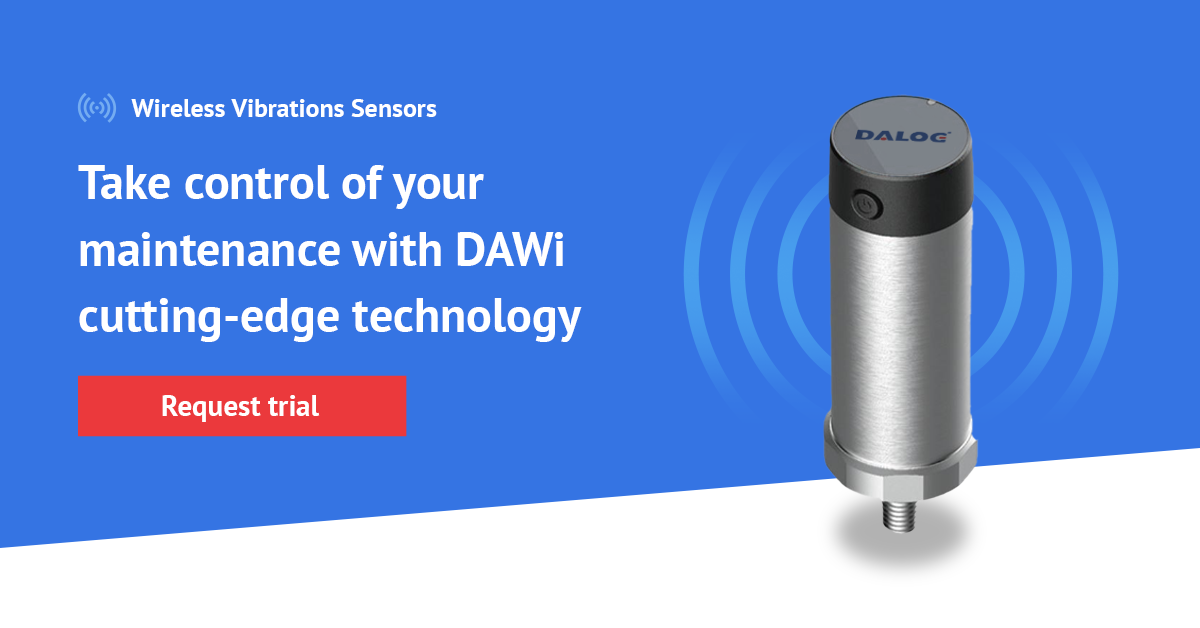 10. Adopt a Continuous Improvement Mindset
A successful program must be dynamic and continuously improved. Key components of a continuous improvement effort include program leadership, periodic reviews, performance metrics, and data analysis.

The program needs to be reviewed regularly, including the equipment, the frequency of monitoring, and the test instruments being used. Additional training or certification may also be necessary.

A comparison could be made between the traditional P-F curve of a failing asset and a failing PdM program. If the primary objective of the predictive program is not met, such as identifying necessary corrective maintenance activities at the optimal time, then the program has failed. Therefore, it is crucial to ensure that the spirit of continuous improvement is an integral part of the Condition Monitoring program.
---
Interested in a Wireless Vibration Solution for your company? Learn more about DAWi, our wireless vibration sensor.